Nebraska Football: Cam Jurgens' new position could see him star for Eagles this season
Former Nebraska football star Cam Jurgens' future is likely still at center, but a move to guard could get him on the field sooner.
Since former Nebraska football star Cam Jurgens was drafted by the Philadelphia Eagles last year, the number of superlatives coming from his teammates has been impressive. Among the teammates showering the young offensive lineman with praise is none other than future Hall of Famer Jason Kelce.
This past week, Kelce once again told anyone who would listen just how impressed he's been by his young protege, even if Jurgens will eventually replace him.
"Cam is really, really talented," Kelce said on Wednesday about his eventual replacement from the Nebraska football team. "Extremely physically gifted, hard-working. The strength-to-weight ratio that he has is phenomenal. Very, very strong for his size. Extremely explosive, smart, blue-collar, lunch-pail-type kid."
Kelce went on to say that Jurgens was "ready to play" in the NFL last year. It's just that it's neigh impossible to replace someone who is among the best in his position. Not just today but ever.
The former Nebraska football star saw just 35 snaps last year. The Eagles seem to believe that's only because Kelce stayed healthy. He started all 17 regular season games and all three postseason contests. Including the Super Bowl.
This year, the Eagles' plan will have both offensive linemen on the field at the same time.
Former Nebraska football star moving over
After right guard Isaac Seumalo left in free agency, Philadelphia decided the former Nebraska football player would get a real shot to show what he can do in the NFL. Kelce, who put off retirement for one more year, now gets to play alongside the man who will eventually take over his position. And he seems excited about it.
"He's going to get a chance to compete at right guard and he's going to get a chance to play center still. The future is extremely bright for him. I think he can blossom into one of the best centers in the league, easily, one day. And I think he can play right guard. So we're going to get a chance to watch that."
Because Kelce is nearing the end of his career, this offseason is going to be an important one for Cam Jurgens. He'll see quite a bit of work both at center and guard.
The practice will help him prepare for the 2023 season. As well as the 2024 campaign and beyond.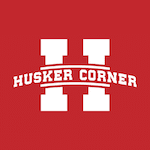 Want your voice heard? Join the Husker Corner team!
Write for us!
From the standpoint of Nebraska football fans, they'll finally get to see one of the biggest success stories of the Scott Frost era, finally start consistently in the NFL.