Nebraska football dipping toe back into transfer portal with Tyler Knaak
The Nebraska football team seemed like it was done going after potential transfer portal targets. But a visit from a former Utah offensive lineman appears to be the exception to the rule. The Huskers hosted Tyler Knaak on Monday in what seems to be one last push to shore up Donovan Raiola's unit.
The Monday visit seemed to be a bit of a surprise as there weren't really rumblings that it was going to happen before the offensive lineman landed in Lincoln. It certainly makes sense that if they had to set up the visit fast, they'd want make sure and find the time.
Knaak is a big dude, standing 6-foot-6 and weighing in at 305 pounds. He's also someone who was highly touted out of high school, getting offers from schools like USC, Utah, Oregon State, Arizona State and Virginia. However, no one has gotten to see how good the o-lineman is yet because he redshirted in his first season for the Utes.
Nebraska football target would be big longtime pickup
The fact that Knaak is eligible to play four more years has to be one of the reasons the Huskers are willing to host another potential transfer. The Huskers have been doing quite a bit of moving and shaking in order to get under the scholarship limit before fall camp starts. This would be the first addition from the transfer portal since December.
It also makes sense that the Nebraska football coaches would be looking at an offensive tackle as the "one more addition" in this situation. That position still has quite a few questions that will need to be answered this fall.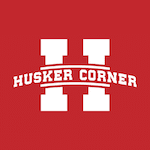 Want your voice heard? Join the Husker Corner team!
Write for us!
Tyler Knaak would seemingly fill the spot on the roster that was originally intended for Walter Rouse. The Huskers thought they grabbed the Stanford tackle from the portal this winter. However, he changed his mind just a few days after committing to Nebraska football and instead decided to give his pledge to Oklahoma.