2014's brand new edition of Husker football cruised past the Florida Atlantic Owls to the tune of a 55-7 drubbing. This marked win No. 29 in a row come season openers for Nebraska, the longest of its kind.
In a game like this, one has to be a bit nit-picky. However, I tried to be equally tough and fair.
The defense was marked down as a whole somewhat due to the opening drive, but if I was grading overall, the entire team would get a solid 'A'.
That said, let's find out how each individual position group graded out.
Feel free to add your own grades in the comments section below!
Quarterbacks
B+
Tommy Armstrong went 15-for-29 for 271 yards and two touchdowns. He also added a seven carries for 62 yards and a score on the ground.
The Cibolo, TX native looked the part of a starter as he controlled the offense from the get-go. However, two things kept him from getting an 'A.'
First, there was at least one pass that should have been intercepted and there were a few passes that floated on No. 4 when he was throwing off of his back foot.
That said, it's hard to complain about his overall performance.
I-Backs
A+
Hello, New York City? Ameer Abdullah had himself a day to remember on Saturday with 21 carries for 232 yards and a touchdown.
Averaging 11 yards per carry, Abdullah showed his brilliance and put the country on notice that "Fear Ameer" is more than just a catchy tagline.
Adding to the I-Backs top grade was a 16 carry, 107-yard effort from sophomore Terrell Newby who was electric at times, including a 43-yard jaunt down the field.
Imani Cross added 32 yards and a touchdown as well.
Wide Receivers/Tight Ends
B+
A drop or two and some penalties prevent this grade from being an 'A'. I want to qualify this by saying Jordan Westerkamp gets an 'A+' and a pumpkin sticker for his insane behind the back catch.
In addition to this sure-fire SportsCenter Top 10 play, "Westy" nabbed six more passes for a total of 125 yards in addition to putting a touchdown on the board.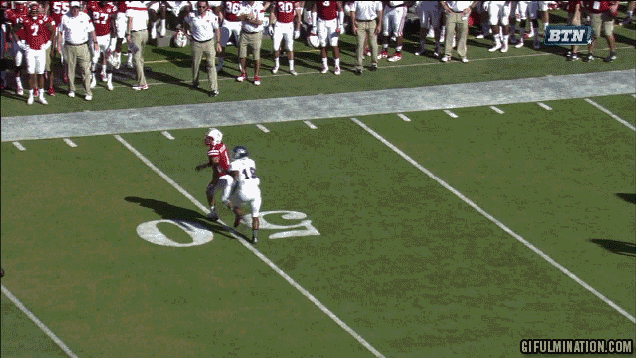 Senior Kenny Bell caught four passes for 116 yards, most of which game on a 63 yard bomb from Tommy Armstrong in the second half.
Freshman De'Mornay Pierson-El was welcomed to big-time college football by making his first catch worth a touchdown.
Sam Cotton was the only tight end to catch a pass (10 yards), while Trey Foster saw time as an H-Back and had a pass fired in his direction, but it would land behind him.
Offensive Line
A+
The Husker "Pipeline" went to work and road grated the Owls to the tune of 498 rushing yards on 57 attempts, allowing an astounding 8.7 yards per carry. Better yet, no rushing plays caused lost yardage.
Lead by Alex Lewis and Jake Cotton, the hosses up front also kept the quarterbacks clean, surrendering no sacks. An outstanding day for a unit replacing so many starters.
Defensive Line
B+
The Owls came into the game with an over-matched offensive line compared to the Huskers' fearsome foursome…and then Randy Gregory left the game with an injury.
In his absence, Greg McMullen stepped up and was a monster during the game notching four tackles and splitting a sack. He also had two tackles for loss and three quarterback hurries.
Maliek Collins and Vincent Valentine controlled the middle for the most part and walk-on Jack Gangwish performed admirably getting a tackle and a quarterback hurry in his first major action.
The only thing preventing the unit from getting an 'A' was the first drive as after that, obviously adjustments were made.
Linebackers
B+
Again, the first drive prevents this from being an 'A', but Zaire Anderson and David Santos were the top two tacklers for the Blackshirt defense with seven and six, respectively.
Each added a tackle for loss while linebacker Josh Banderas added three tackles of his own.
Defensive Backs
B+
Josh Mitchell broke up two passes, but the entire secondary was shaky during that dastardly first drive.
Florida Atlantic's Lucky Whitehead had a solid day against them including burning the Blackshirts on FAU's screen pass for a score.
Kickers/Punters
A
Drew Brown was trotted out first and promptly nailed a 44-yard kick to open his Husker career. Mauro Bondi made an appearance and hit a 45-yarder in the third quarter.
Brown was perfect on extra points and Bondi kicked seven of his ten kickoffs for touchbacks. A solid day for a position of major question coming into the game.
Return Game
D
I made the statement over two weeks ago that starters weren't needed in the return game. Well, the coaches clearly weren't interested in that advice.
Bell returned two punts for five yards and muffed a punt that he was alert enough to knock out of bounds. Pierson-El was a bit more productive, returning two punts for a total of 14 yards.
Kick return starters were Bell and fellow wide receiver Alonzo Moore who returned one for 14 yards. Not great, but the return men didn't have a lot of opportunities.
Coaching/Game Management
B+
Bo Pelini's seventh home opener was a bit shaky early, but the good news was no harm came from the slow start. Nebraska out-muscled the Owls for the vast majority of the afternoon.
A tip of the cap to the coaches for getting their guys ready on offense and notching their first turnover-free game since the 2012 season opener.
Be sure to like Husker Corner on Facebook, follow us on Twitter, snag the FanSided app (iOS) (Android) and subscribe to our newsletter below to keep plugged into Husker Nation from all over the globe.
Tags: Nebraska Cornhuskers